Posted July 2014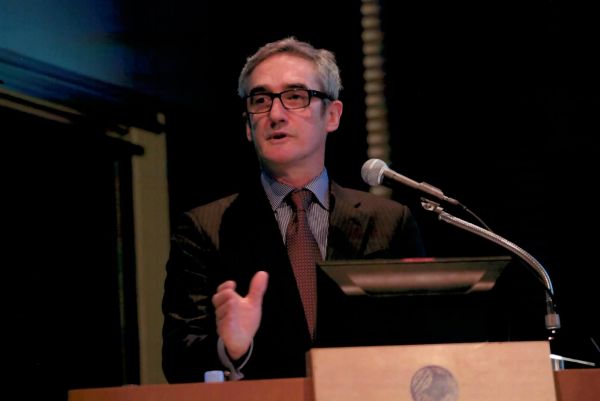 Dr Carey was an invited keynote speaker at the recent 66th Annual Congress of the Japan Society of Obstetrics and Gynecology (JSOG). He spoke on recent trends in prolapse surgery.
Here is an overview of Dr Carey's address:
"In developed countries around one in nine women undergo surgery for pelvic organ prolapse. In the United Sates, more than 400,000 operations for prolapse are performed on over 300,000 women annually for pelvic organ prolapse. Anterior and/or posterior colporrhaphy (native tissue repair) are the most commonly performed operations for pelvic organ prolapse (1, 2). Anterior and/or posterior colporrhaphy was performed on 68.6% women undergoing prolapse surgery in 2003 (1). Many different vaginal, abdominal and laparoscopic procedures have been described to treat pelvic organ prolapse and there is currently no consensus on the most effective operation.
The lifetime risk of 11.1% for surgery to treat pelvic organ prolapse or urinary incontinence or both was reported by a study from a United States health maintenance organization and further surgery for recurrent prolapse and/or urinary incontinence was required in 29.2% (3). Dissatisfaction with native tissue repair (traditional colporrhaphy) for pelvic organ prolapse resulted in increased usage of mesh to augment vaginal repair procedures in order to obtain higher success rates. This peaked in 2010 and 2011 with up to However, the use of mesh placed via a trans-vaginal incision during vaginal repair procedures is controversial.
Studies have reported significant problems (e.g. pain, dyspareunia and mesh exposure) with the use of mesh during vaginal prolapse surgery peaking in 2010 and 2011 during which time around 18% of surgeries for prolapse utilized trans-vaginal mesh.  As a result of recent FDA (Food and Drug Administration) warnings about the usage of trans-vaginal mesh there has been amarked decline in trans-vaginal mesh usage and renewed interest in native tissue repair, sacral hysteropexy and sacral colpopexy. The role of trans-vaginal mesh should be limited to experienced surgeons for selected cases of anterior compartment prolapse (e.g. recurrent cystocele, stage III or IV cystocele).
Sacral colpopexy is widely considered to be the gold standard operation for pelvic organ prolapse particularly in cases of recurrent vaginal prolapse and prolapse of the vaginal vault following hysterectomy. Vaginal vault prolapse occurs in approximately 10% of women following hysterectomy and occurs in equal numbers following abdominal and vaginal hysterectomy. In 2010, around 13% of women having surgery for pelvic organ prolapse in the United States underwent a sacral colpopexy procedure. The sacral colpopexy procedure can be performed through a laparotomy incision, laparoscopically or robotically.
Prolapse of the uterus has traditionally been managed by vaginal hysterectomy and usually performed concomitantly with some form of vaginal surgery to re-support the vaginal apex (e.g. sacrospinous ligament fixation, trans-vaginal utero sacral ligament suspension).  Up to 44% of women undergoing prolapse surgery have a concomitant hysterectomy (1). However, many patients with uterine prolapse are now requesting conservation of the uterus at the time of prolapse surgery.  More recently laparoscopic and robotic procedures to re-support the uterus have been described.
Around 35% of women will require concomitant surgery for stress incontinence. Typically a TVT or TOT procedure is performed.  However, recent research has questioned the value of concomitant anti-incontinence surgery for occult stress incontinence.
As a result of the ageing of western population it is anticipated that the rate of prolapse surgery will increase by 45% over the next 15 years. Very elderly patients, who are not sexually active, with prolapse requiring surgery can be safely and effectively managed by a colpocliesis procedure. In selected cases this can be performed under local anaesthesia."
— Dr Marcus Carey
Summary
Recent trends in POP surgery and future role of mesh:
Dramatic reduction in trans-vaginal mesh
Renewed interest in native tissue repair and sacral colpopexy (laparoscopic and robotic)
Trend towards uterine preservation (laparoscopic and robotic hysteropexy)
Around 35% of women will require concomitant surgery for stress incontinence but a trend away from concomitant surgery for occult stress incontinence
Trans-vaginal mesh in the anterior compartment only by experienced surgeons in carefully selected patients (e.g. recurrent cystocele; stage III and IV cystocele)
Increasing use of colpocliesis for elderly patients
Future advances in synthetic meshes, biological meshes and potential role of stem cells
Increasing interest in qualitative research when evaluating POP surgery outcomes
References
Boyles SH. Weber AM, Meyn L. Procedures for pelvic organ prolapse in the United States, 1979-1997. Am J Obstet Gynecol. 2003, 188; 108-15
Shah AD, Kohli N, Rajan SS, Hoyte L. The age distribution, rates, and types of surgery for pelvic organ prolapse in the USA. Int Urogynecol J 2008; 19:421-428.
Olsen AL, Smith VJ, Bergstrom JO, Colling JC, Clark AL. Epidemiology of surgically managed pelvic organ prolapse and urinary incontinence. Obstet Gynecol 1997; 89: 501-6.