Posted July 2018
"All pelvic floor surgery can be performed without mesh"
UGSA 2018 Debate
At the recent Urogynaecology Society of Australasia's Annual Scientific Meeting held in Adelaide in March 2018, Dr Marcus Carey from Melbourne and Professor Halina Zyczynski from Pittsburgh USA debated for the motion that "All pelvic floor surgery can be performed without mesh". The team debating against the motion were Professor Vivian Sung from New York, USA and Dr Gil Burton from Sydney.
Dr Carey opened the debate by outlining the mesh free surgical options for stress incontinence and prolapse. Professor Zyczynski then provided evidence supporting the safety and effectiveness of mesh free surgical options for stress incontinence and prolapse.
 Here are some the highlights of Dr Carey and Professor Zyczynski's arguments.
The two main options mesh free procedures for women with stress incontinence are the Burch colposuspension and native tissue Pubo-vaginal sling. Mesh free options for pelvic organ prolapse include native tissue anterior and posterior vaginal repair (anterior and posterior colporrhaphy) for cystocele and rectocele. For uterine prolapse, mesh free options include trans-vaginal sacrospinous fixation of the uterus or laparoscopic and robotic uterosacral ligament suspension of the uterus. When hysterectomy is performed, or if the patient has had a prior hysterectomy (vault prolapse), the vaginal apex can be suspended from sacrospinous ligament during vaginal surgery or from the uterosacral ligaments during laparoscopic and robotic surgery. Table 1 details outcomes of native tissue incontinence and prolapse surgery.
Table 1. Outcomes of common mesh free operations for stress urinary incontinence and prolapse.
Outcome

Incontinence Surgery

Prolapse Surgery

Procedure

Burch Colposuspension

Pubo-vaginal Sling

Anterior Repair

Posterior Repair

Apical Repair

Subjective Cure 1-2 years

80-90%%

90-97%

82%

Objective Cure 1-2 years

69-88%

85-92%

60-70%

87-97%

88%

Retreatment Surgery

12%

2%

2-9%

2-12.5%

12%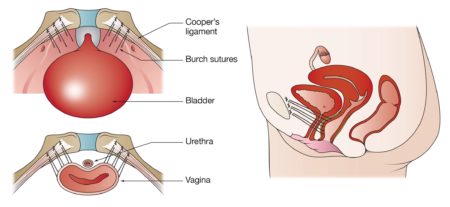 Figure 1. The Burch colposuspension. Sutures are used to re-support the urethral from Cooper's ligament. This surgery avoids the use of mesh and is usually performed by laparoscopy.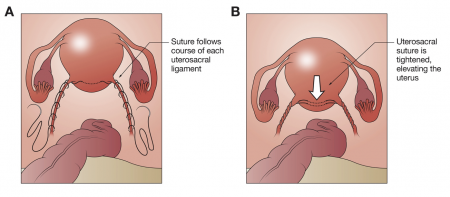 Figure 2. The illustrations above demonstrate a view from above of the uterus suspended from each uterosacral ligament (USL) by sutures. A. a suture is passed through the right and left; B. tying the sutures re-suspends the uterus from the USL's. This surgery avoids the use of mesh and is performed using laparoscopic or robotic assistance.